BELDT

LABS BEST SELLER PRODUCTS
SKALD BELDT LABS
The world's 1st fat burner with respiratory support, SKALD delivers unbelievable energy and focus with astounding fat loss by supercharging your metabolism and suppressing your appetite. Get a powerful boost every morning and stay focused throughout the day. You'll feel alert and awake, even when fasting. In the gym, you'll grind and push yourself beyond what you thought was previously possible – the best weight loss supplement for a complete body transformation

SKALD is like no other fat burner on the market today, even if you've tried every diet pill before, SKALD can work for you with its unique but proven weight loss formulation. It's the ONLY fat burner that combines elecampane for respiratory support with Juniper Berry, an all-natural but powerful extract that increases your basal metabolic rate and improves lipolysis—which is the breakdown of fats for energy

The unique fat-burning formula in SKALD doesn't rely on harsh stimulants, so unlike other diet pills, our customers report unbelievable transformational results with none of the reported side effects of other thermogenic fat burners that leave you with jitters, anxiety or energy crashes

Take the BELDT Labs 60-DAY CHALLENGE – Get results or get your money back. We invite you to try SKALD completely risk-free for 60 days. If you don't look better and feel better, just contact us and we'll give you a full refund. No hassles, no delays, no stories. We make it so you have absolutely nothing to lose by giving it a shot
REBAAR

BCAAs Amino Acids Branched-Chain Muscle Reinforcement BCAA Pills
REBAAR – the best bcaa capsules on the market are formulated with a specific combination of powerful nutrients that can make you look better and perform better than 99% of the population

Packed with the most essential branched-chain amino acids to help you build lean muscle quickly, you will see your body transform fast and notice an impact in your overall outlook on life

REBAAR BCAA amino acids gives you the right amount of proteins in the perfect BCAA ratio 2:1:1; feed your body with the highest ratio available of the three crucial proteins Leucine, Isoleucine and Valine

Take 3 pills of BCAA amino acids before and/or after training to give your muscles all the support they need to recover quickly post workout so you can push more reps the next day!

Try REBAAR for 60 days – completely risk-free; If you don't pack on a noticeable amount of lean muscle or if you don't like it for any reason at all just let us know. We'll be more than happy to give you every penny back.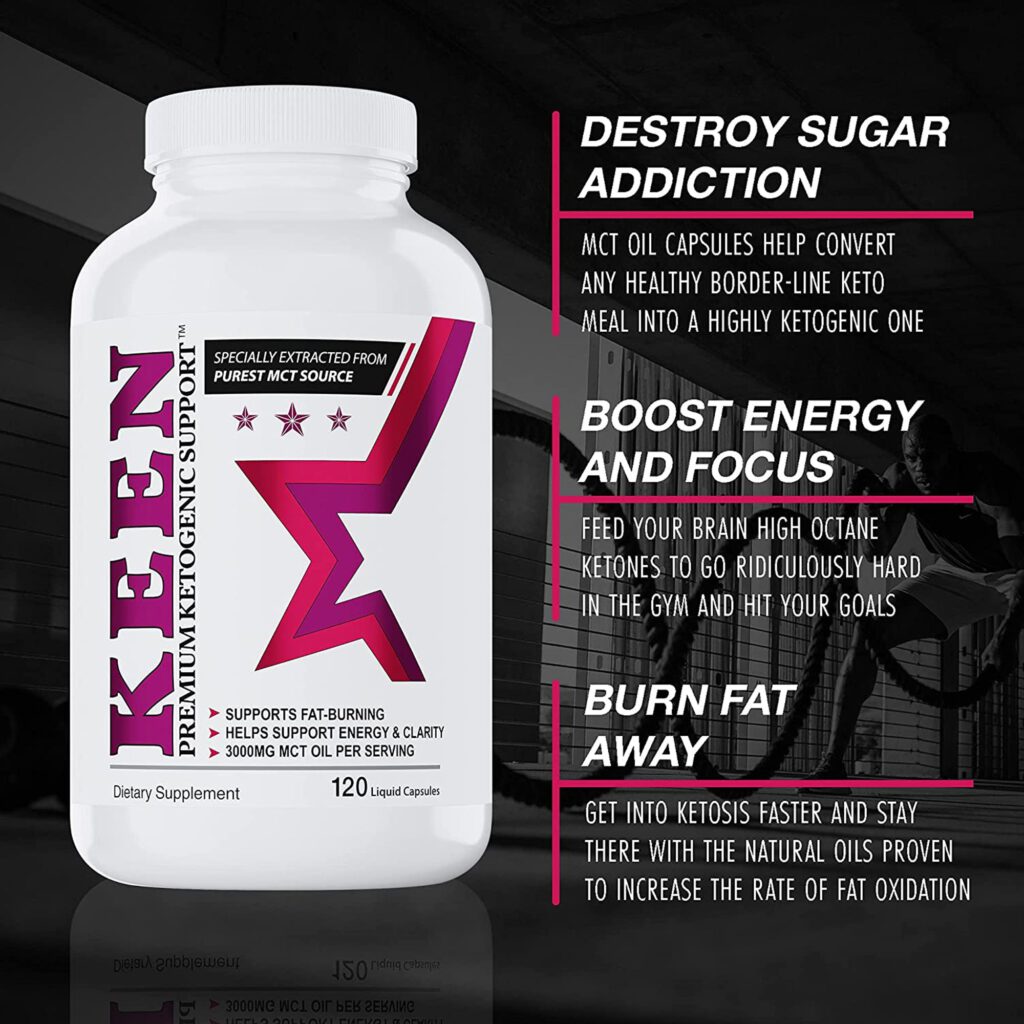 KEEN

MCT Oil Capsules 3000 mg per Serving 
Premium Ketogenic Support with C8 MCT Oil and C10 MCT Oil Keto Softgels

Help kickstart your body into a fat-destroying state of ketosis with KEEN MCT Oil Pills. Experience a clean boost of energy with incredible mental clarity with 3000 mg of MCT oil per serving

End your sugar addiction permanently by destroying it at the source. MCT Oil capsules help convert any healthy border-line keto meal into a highly ketogenic one

MCT Oil liquid capsules are easy and convenient to add to your daily routine and unlike liquid MCT Oil you can even toss your softgels in your travel bag and take them anywhere without mess

KEEN MCT pills help you get into ketosis faster and stay there. Naturally, boost the amount of ketones in your body fast for more energy, and less risk of accidentally falling out of keto
GUSST

Pre Workout Powder
Gusst Preworkout Energy: Boost your workout intensity, focus and endurance that lasts. Other pre-workout supplements rely on caffeine alone as an energy booster, but we know caffeine is not enough!

Feel alert and motivated even after a long day! Our pre-workout drink doesn't just make you feel awake; our natural, powerful ingredients work to boost acetylcholine, an essential link between your brain and muscles

Energy Boost without the jitters. Gusst contains several ingredients to reduce anxiety potentially caused by the potent stimulants inside, it actually increases levels of focus at a neurological level.

Delicious Taste! No one drinks a pre-workout for the flavor, but that doesn't mean it can't taste great. GUSST has a mild, smooth flavor with the perfect amount of sweetness. It mixes perfectly with water and goes down easily.

Feel Energized. Get results. Guaranteed. Try GUSST Pre-Workout Amplifier for 60 days, if you don't feel more motivated and alert, contact us and our team will gladly provide a full refund. Nothing to lose, everything to gain!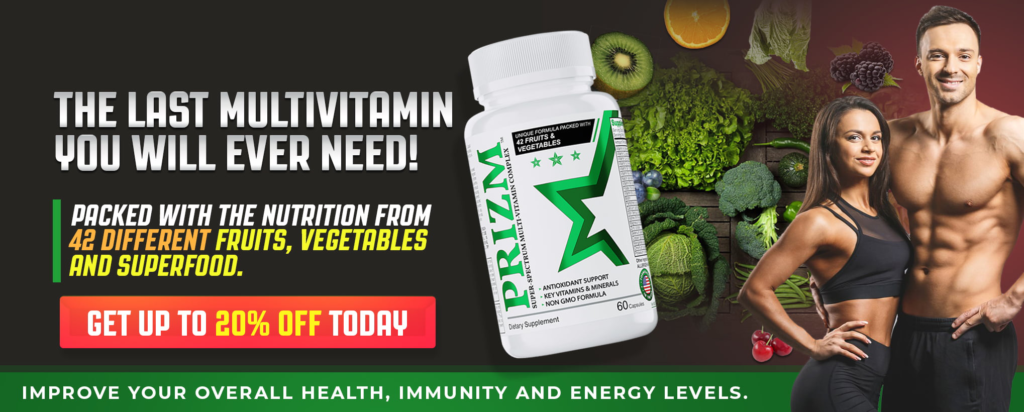 Prizm

Whole Food Vitamins Daily Superfood
BELDT Prizm whole food multivitamin provides the antioxidant and immunity-boosting nutritional power of 42 fruits, vegetables and superfoods, plus essential vitamins and minerals, all available in 2 convenient daily capsules

Complete multivitamin for men and women, created for the demanding needs of athletes but formulated to support general health and your immune system. You don't need to be an athlete to reap the unique benefits of this high-performance multivitamin

Trust that your nutrition is supported by the highest quality nutrients; the vitamins and minerals in Prizm come from the best possible sources, unlike other multivitamins which use cheap ingredients that are not readily bioavailable

With Prizm whole food vitamin, you don't just get the right nutrients, you get the right KIND of nutrients. Have peace of mind knowing that your body is absorbing all the good stuff through whole foods and AMERICAN MADE, GMP certified ingredients.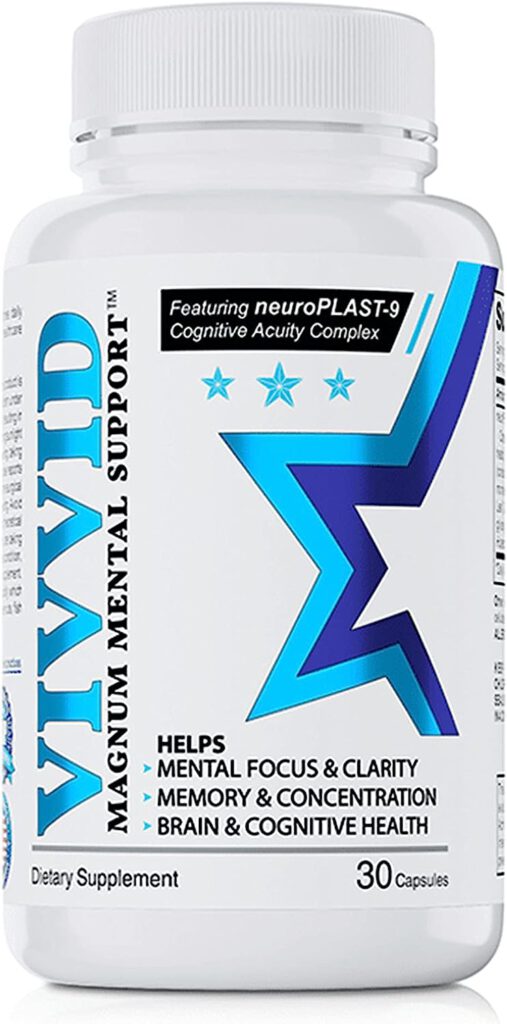 VIVVID

Brain Booster Focus Supplement 
Vivvid Brain Supplement features a unique blend of nootropics to boost your brain power and help you feel sharp and focused all day. Nootropic brain supplements are substances that have been tried and tested to boost cognition and mental focus

These innovative brain vitamins contain large amounts of Brahmi, a flower used in India for centuries to boost memory and increase cognitive function. Eight other brain boosting ingredients make this the most powerful brain health supplement

Powerful memory pills with Ginkgo Biloba, which is known to slow down the progression of some neurological conditions. Recent studies have shown it can also improve memory and processing speed in neurologically healthy adults

Get more done! These brain booster supplements are designed to get you in "The Zone", with a sensation of absolute mental clarity that helps you get more done in less time. Exactly what you need to gain an edge in today's competitive world
VASST

Nitric Oxide Booster Supplement
VASST Nitric Oxide Supplement for men and women is the "cheat code" for unlocking rapid muscle growth and building fuller, leaner muscles; achieve a toned sexy body or a rock hard six pack

VASST NO Booster widens your blood vessels to allow more oxygen and nutrients to enter your muscles helping you achieve results quicker than you ever imagined; this means less time at the gym!

Protect your muscles from excessive stress damage with regular use of VASST nitric oxide supplements; the natural ingredients found in this formula will help you build muscle and recover faster to avoid any damage from strain

To achieve the best nitric oxide pump take 3 tablets 1 to 2 times daily 30 minutes before a meal with 8 ounces of water; Each serving contains over 3000mg of A-AKG, OKG, GKG, and L-Arginine HCL for advanced performance
BELDT

LABS BEDROCK SERIES
BEDROCK SERIES – BELDT LABS CLA 1000
BEDROCK SERIES – BELDT LABS FLAXSEED OIL
BEDROCK SERIES – BELDT LABS COLLAGEN
BEDROCK SERIES – BELDT LABS PROBIOTIC
BELDT

LABS STACKS
BELDT LABS SKLADT
BELDT LABS KEEN
BELDT LABS REBAAR
BELDT LABS VASST
BELDT

LABS BEST DEAL