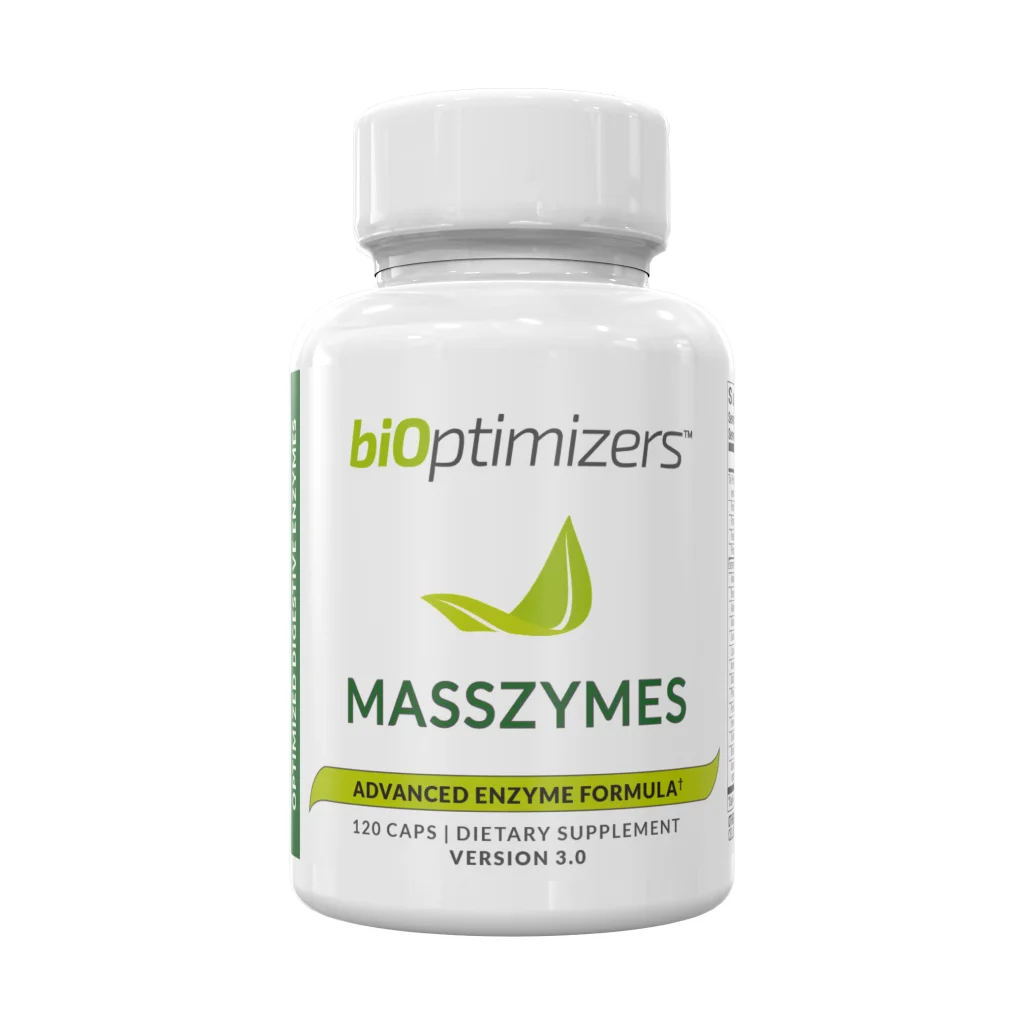 biO

ptimizers Masszymes Reviews
biOptimizers Masszymess; Are you sure your digestive enzymes are working fine? Or are you constantly blaming restaurants for your upset stomach and indigestion issues? Most people who suffer from digestive issues or dysfunctional glands don't know that they have a problem. Since our diets are continuously infiltrated with take-outs and questionable food choices, we tend to connect our gut problems with our lifestyles. While it is true for most people, it is not necessarily the case for everybody.
The first thing you should do is get yourself checked. Let a doctor identify the cause of your problems and check whether your digestive enzymes are doing fine. If there is a problem with these enzymes, here is what you can do: take digestive enzyme supplements. One such supplement is Masszymes. In this Masszymes review, you'll find out everything you need to know about this product before you try it.
What Are
biO

ptimizers Masszymes?

Let's start the biOptimizers Masszymess review by discussing what it is. Masszymes is a BiOptimizers digestive enzyme supplement. The company manufactures health products to target nutritional deficiencies and dysfunctions.

The company that started with fitness programs in 2004 is now one of the most well-loved supplement businesses of its time. Two partners run the business. Wade Lightheart and Matt Gallant, the president, and chief executive officer of BiOptimizers, were both trainers who worked with athletes and performers.

In 2004, they partnered to develop a now-thriving fitness business. Masszymes is just one of the many crowd-favorite products they have launched so far.

biO

ptimizers Masszymes Ingredients

Moving on with the biOptimizers Masszymess review, let's talk about what this supplement consists of. Basically, as you can probably tell from the product's name, it has got a combination of different enzymes. Each of these enzymes is naturally produced in our bodies and perform a specific function of their own. Here are some of the major enzymes in these capsules:

● Triphase protease
Proteases are enzymes that have catalytic functions in our body. They break down proteins by hydrolyzing the peptide bonds in them. In your small intestine, protease enzymes digest all the proteins that you eat. They break it down into small amino acid chains and aid their absorption.

● Lipase
Lipase enzymes mediate fat digestion in our body. When we eat fats, the lipase enzyme is responsible for breaking them down into glycerol and fatty acids. Then, these products are carried by our bodily fluids, like lymph and blood, so that our body can use them for energy.

Apart from breaking down fats into smaller pieces, these enzymes also regulate the uptake of said fats in our body tissues and monitor their mobilization inside our cells. Lipase enzymes are naturally present in our gastrointestinal tract, they are bound to the epithelial services, and you can also find them inside cells that store fat.

● Amylase
Amylase is responsible for digesting carbohydrates and breaking their glycosidic bonds. They convert complex carbohydrates into simple sugars so that they can be absorbed and utilized efficiently. There are three types of amylase enzymes (alpha, beta, and gamma), and each of these enzymes attacks different components of a carbohydrate molecule.

● Bromelain
Bromelain is a kind of protease enzyme that breaks down proteins by cutting down their amino acid chains. This way, it helps digest these proteins. However, this particular enzyme is famous for other reasons as well.

It is believed that bromelain causes the production of different substances in our body that fight against inflammation (swelling) and pain. For this reason, experts and medical professionals usually recommend bromelain for swelling and pain in different parts of the body.

It is a popular recommendation for relief after an injury or surgery. Patients that have problems with gums, sinuses, and noses are also usually recommended bromelain. Furthermore, digestive issues, muscle soreness, cancer, and osteoarthritis patients also take bromelain as a part of their management.

Individuals who suffer from painful burns also use topical bromelain for relief and healing.
How Does
biO

ptimizers Masszymes Work?

Sometimes, it is normal for us to lose digestive enzymes as we age. With stress and aging, we slowly deplete the enzyme reserves in our bodies.

This depletion leads to poor skin health, weight gain, fatigue, and nutritional deficiencies. In such cases, you sometimes need to take supplements from the outside. Supplements like Masszymes enter your body and distribute the enzymes to your systems that are in need.

The enzymes then take up the processes that your natural enzymes were incapable of doing. biOptimizers Masszymess is 100% plant-based and very highly concentrated with digestive enzymes. All these enzymes are active at different pH levels so that they can work well throughout the gastrointestinal tract.

These enzymes work by improving your digestion and enhancing your gut health. Overall, you feel a boost of energy, and your mental clarity also improves by several folds. If you are recovering from heavy exercise or a trauma/injury, these supplements will quicken your recovery phase as well.

If you suffer from digestive symptoms, like gas, constipation, and bloating, taking Masszymes will work best for you.
How To Use
biO

ptimizers Masszymes?

It is recommended to take biOptimizers Masszymess digestive enzymes with your meals if you want to obtain digestive benefits and reduce symptoms like post-meal fatigue, indigestion, and bloating. If you wish to benefit your systemic systems like improving your exercise recovery, break down the scar tissues and inflammatory proteins, and quicken wound healing, you can take the supplements on an empty stomach before your meals.

Depending on the goals that you want to achieve with these supplements, you can take them accordingly.

Take Masszymes 3 capsules with each meal. (May take 1-3 capsules with each meal and 1-2 capsules in between the meals) Store in cool/dry location.

The digestive enzyme's role is to break down food. If you take it on an empty stomach, it won't have any food to perform its function.
What Are
biO

ptimizers Masszymes Side Effects?

It is essential to add the potential side effects to this BiOptimizers Masszymes review so that you can be fully prepared for the worst. If you take digestive enzyme supplements without needing them, they might trigger some severe symptoms in your body.

These symptoms include diarrhea, bloating, and nausea. Some people can also suffer from allergic reactions and experience difficulties swallowing, stomach pains, rash, and itching. The symptoms can worsen if you are pregnant, breastfeeding, have gastric ulcers, or undergo pharmacological therapy for something else already.

If you experience any of these symptoms, they might be the side effects of taking the supplements. Contact a doctor immediately and seek medical attention.
biO

ptimizers Masszymes Customer Review: What People Say About This Product

Apart from this biOptimizers Masszymes review, many other people have spoken out about their experience with these supplements as well. The product has an excellent rating on almost every selling website, including BiOptimizers itself and Amazon.

People generally love the capsules and are saying good things about them. It has helped them improve their gut health and become more satisfied in their lives. Many reviewers are also stating that it has helped them reduce their swelling and joint pains.

Clients as old as three years vouch for biOptimizers Masszymes and continue to use them. So, it's safe to say that consumers are overall very happy with these digestive enzyme supplements, and no one has complained about any severe reactions from them.
biOptimizers Masszymes
I have extreme food sensitivities. Over the most recent couple of months my food sensitivities had gotten SO awful I could just eat products of the soil 6 things. It was getting truly baffling to eat. On the off chance that I ate other food, I would get an extreme headache and experience the ill effects of gas and bulging.
In less than Multi-week of taking your MassZymes, I would now be able to eat veggies once more. I'm additionally ready to eat more crude food sources that I was unable to eat in months. This has transformed me. Much obliged to you for giving me trust that I can carry on with a more typical life. John
biOptimizers Masszymes
I have been taking biOptimizers Masszymes for the most recent year. They help my assimilation massively. I love the item! I notice an adjustment in my stomach-related interaction when I am not taking them. I went on a multi-week scrub and afterward a multi-week bone stock quick to help clear up some stomach-related problems a while back. At the point when I began eating ordinarily once more, I continued taking MassZymes and my entire digestive problem plot was greatly improved. No really swelling and stomach throbs. Jack
Masszymes Awesome!
In the wake of taking the enhancements for over seven days, I can say that it truly helped my stomach-related interaction and I accept that I will be more satisfied on the off chance that I take it longer.
I need to disclose to you I'm intrigued with the diminished bulging and water maintenance following 4 days on the items. Sara
biOptimizers Masszymes
I look throughout all of God's green earth for the absolute best of enhancements to help individuals who come to me. I was decidedly astonished at the amazing nature of the MassZymes ( it is difficult to shock me thusly!), and hence, I have been prescribing your chemicals to a considerable lot of my patients for the past numerous months since I have been utilizing them myself.
I just suggest the best of the enhancements I discover there, and after I found the MassZymes and attempted them myself, I have been decidedly dazzled with their quality and viability. I send you plentiful gifts for all the great work that you are doing, and warm wishes for you and your organization in every one of the years to come. Harry
I LOVE IT!!
I have attempted various things however in truth, the first occasion when I attempted MassZymes I deliberately singed a pound of bacon, 4 eggs and hash-browns all together without depleting the oil. I took 4 MassZymes and interestingly that I can recall, I didn't have any digestive issues.
I LOVE the enhancements, MassZymes! They are the awesome, far, that I've at any point taken! Presently I understand what it seems like to have items that work since I feel them working and I feel good. Sam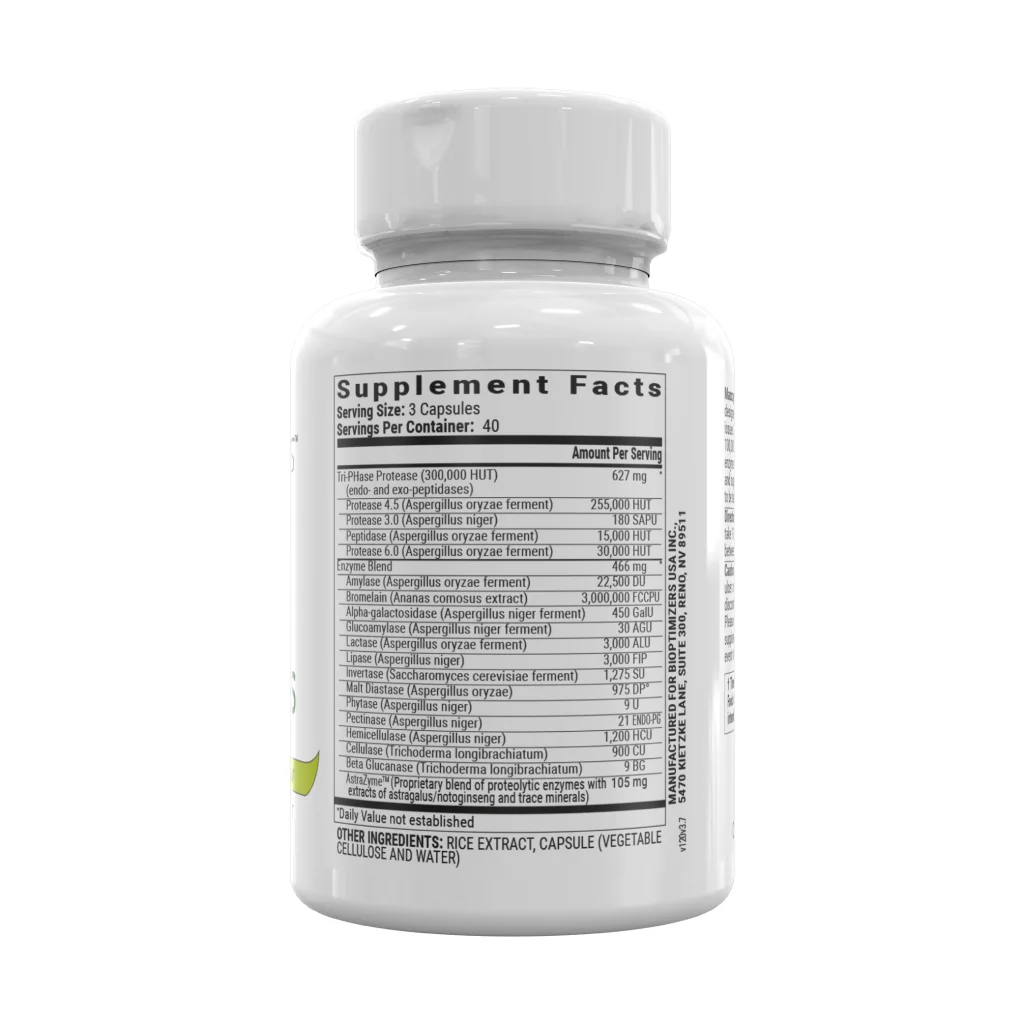 biO

ptimizers Masszymes Discounts, Best Price And Where To Buy

In case you are impressed after this biOptimizers Masszymes review and want to get these for yourself, here are the product's pricing details. As per their website, you can get a bottle of these supplements for $75. However, if you subscribe to the supplement, Save 26% on 3 Bottles MassZymes shipped to you every month. Cancel anytime. 100% Money-Back Guarantee. If unsatisfied for any reason, send back your unused bottles and get 100% of your money back. Each Masszymes bottle consists of 250 capsules. If your order totals 6 bottles of biOptimizers Masszymes and above, you can get free shipping in the US. For orders $297 total, you will save 38% plus Free Shipping. 1 Year Money-Back Guarantee.
biO

ptimizers Masszymes Pros And Cons

Let's end this biOptimizers Masszymess review with a list of pros and cons of Masszymes so you can make your decision thoughtfully.
Masszymes Pros:
● These supplements are vegan-friendly, soy-free, and dairy-free.
● They help in muscle growth and extend your exercise endurance.
● They help improve your gut health and reduce the symptoms of indigestion.
● Your immune system becomes more robust as your nutritional deficiencies are resolved.
● A healthy body will lead to a satisfied mind, better focus and concentration abilities, and an overall improved lifestyle.
● A recurring subscription reduces the overall costs and makes the supplements an affordable part of your diet.
● Subscribing to the supplements also means that you don't have to go through the hassle of purchasing them over and over.
Masszymes Cons:
● You cannot use these supplements if you have gastritis or gastric ulcers.
● Breastfeeding or pregnant women are not recommended to take this product.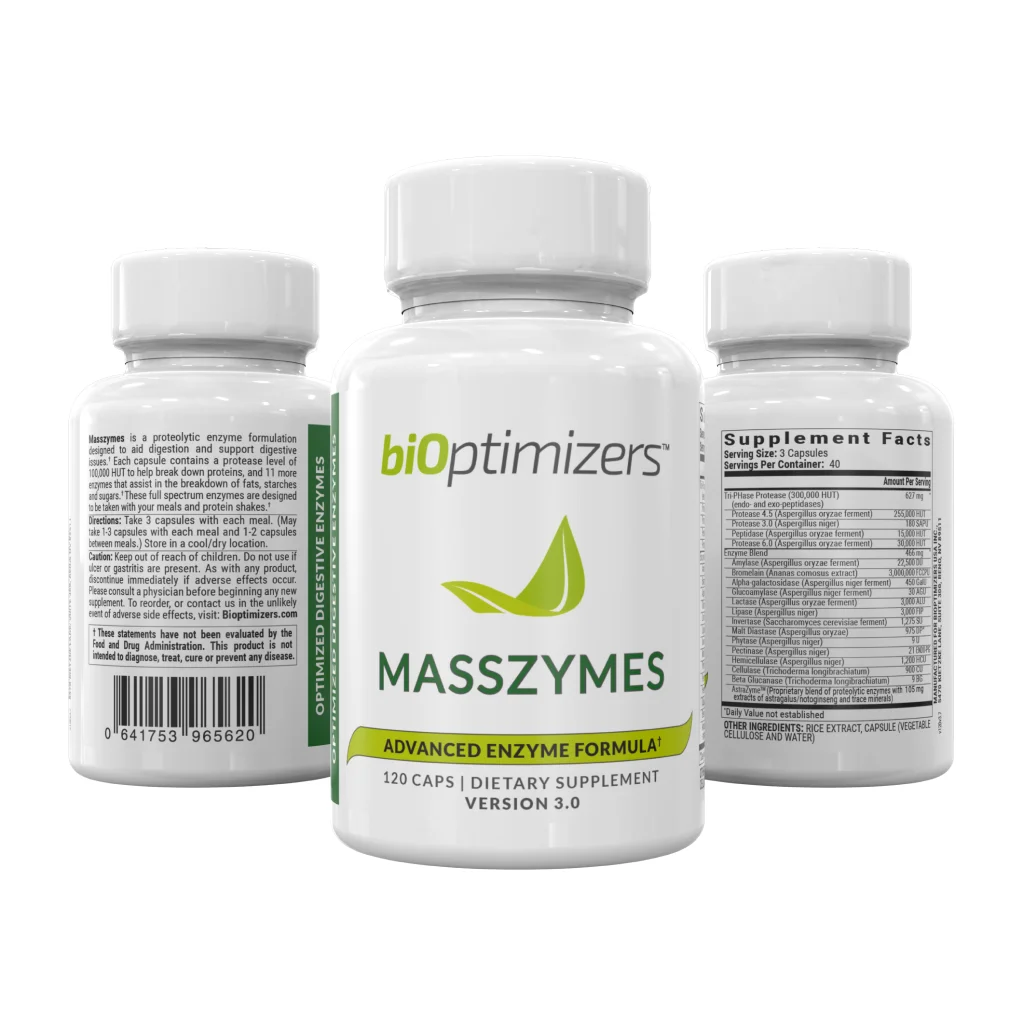 biO

ptimizers Masszymes Summary: Should I Buy It?

Hopefully, this biOptimizers Masszymess review answered all your questions about the product and helped you decide whether you should invest in it. However, if you are still confused, here is a tip: consult your doctor.

Talk to your medical professional and tell them about your current symptoms and concerns. Ask for a diagnosis to make sure that you indeed need the supplements. If your doctor approves and you can afford the capsules, definitely go for it.
Masszymess Discount Codes
Masszymes Scientific Reference
1. Angelakis, Emmanouil, et al. "The relationship between gut microbiota and weight gain in humans." Future microbiology 7.1 (2012): 91-109. biOptimizers Masszymess
2. Peery, Anne F., et al. "Burden of gastrointestinal disease in the United States: 2012 update." Gastroenterology 143.5 (2012): 1179-1187. biOptimizers Masszymess
3. Laugier R, Bernard JP, Berthezene P, Dupuy P. Changes in pancreatic exocrine secretion with age: pancreatic exocrine secretion does decrease in the elderly. Digestion. 1991;50(3-4):202-11.
4. Ishibashi T, Matsumoto S, Harada H, et al. Aging and exocrine pancreatic function evaluated by the recently standardized secretin test. Nippon Ronen Igakkai Zasshi. 1991 Sep;28(5):599-605.
5. Brownie S. Why are elderly individuals at risk of nutritional deficiency? Int J Nurs Pract. 2006 Apr;12(2):110-18.
6. Zoungrana, Thierry, Gerhard H. Findenegg, and Willem Norde. "Structure, stability, and activity of adsorbed enzymes." Journal of colloid and interface science 190.2 (1997): 437-448.
7. Montgomery RD, Haboubi NY, Mike NH, Chesner IM, Asquith P. Causes of malabsorption in the elderly. Age Ageing. 1986 Jul;15(4):235-40.
8. Penninx, Brenda WJH, et al. "Vitamin B12 deficiency and depression in physically disabled older women: epidemiologic evidence from the Women's Health and Aging Study." American Journal of Psychiatry 157.5 (2000): 715-721.
9. Harries, A. D., and R. V. Heatley. "Nutritional disturbances in Crohn's disease." Postgraduate medical journal 59.697 (1983): 690-697.
10. Sannino, F., and L. Gianfreda. "Pesticide influence on soil enzymatic activities." Chemosphere 45.4 (2001): 417-425.
11. Igbedioh, S. O. "Effects of agricultural pesticides on humans, animals, and higher plants in developing countries." Archives of Environmental Health: An International Journal 46.4 (1991): 218-224.
12. Hark, L., and P.M. Catalano. "Obstetrics: Normal and Problem Pregnancies." Obstetrics: Norm Vol. 1. Philadelphia: Saunders Elsevier, 2012. Print. ll and Problem Pregnancies, 6th Edition. 6th ed. biOptimizers Masszymess
13. Bond, John H., and Michael D. Levitt. "Effect of dietary fiber on intestinal gas production and small bowel transit time in man." The American journal of clinical nutrition 31.10 (1978): S169-S174. biOptimizers Masszymess
14. Shinya, Hiromi The Enzyme Factor 2010,biOptimizers Masszymess
15. Howell, E. Enzyme Nutrition: The Food Enzyme Concept 1986. Twin Lakes, WI: Lotus Press. biOptimizers Masszymess
16. Montgomery RD, Haeney MR, Ross IN, et al. The ageing gut: a study of intestinal absorption in relation to nutrition in the elderly. Q J Med. 1978 Apr;47(186):197-24.
17. McCann, M. "Pancreatic enzyme supplement for treatment of multiple food allergies," Ann. Allerg. 71:269, 1993. biOptimizers Masszymess
18. DAVIES, BY RE. "The mechanism of hydrochloric acid production by the stomach." Biological Reviews 26.1 (1951): 87-120. biOptimizers Masszymess
19. Pfeiffer, J.: Enzymes, the Physics and Chemistry of Life, pg 171-173, Simon and Schuster, NY (1954) biOptimizers Masszymess
Relate posted –  BiOptimizers Products Review