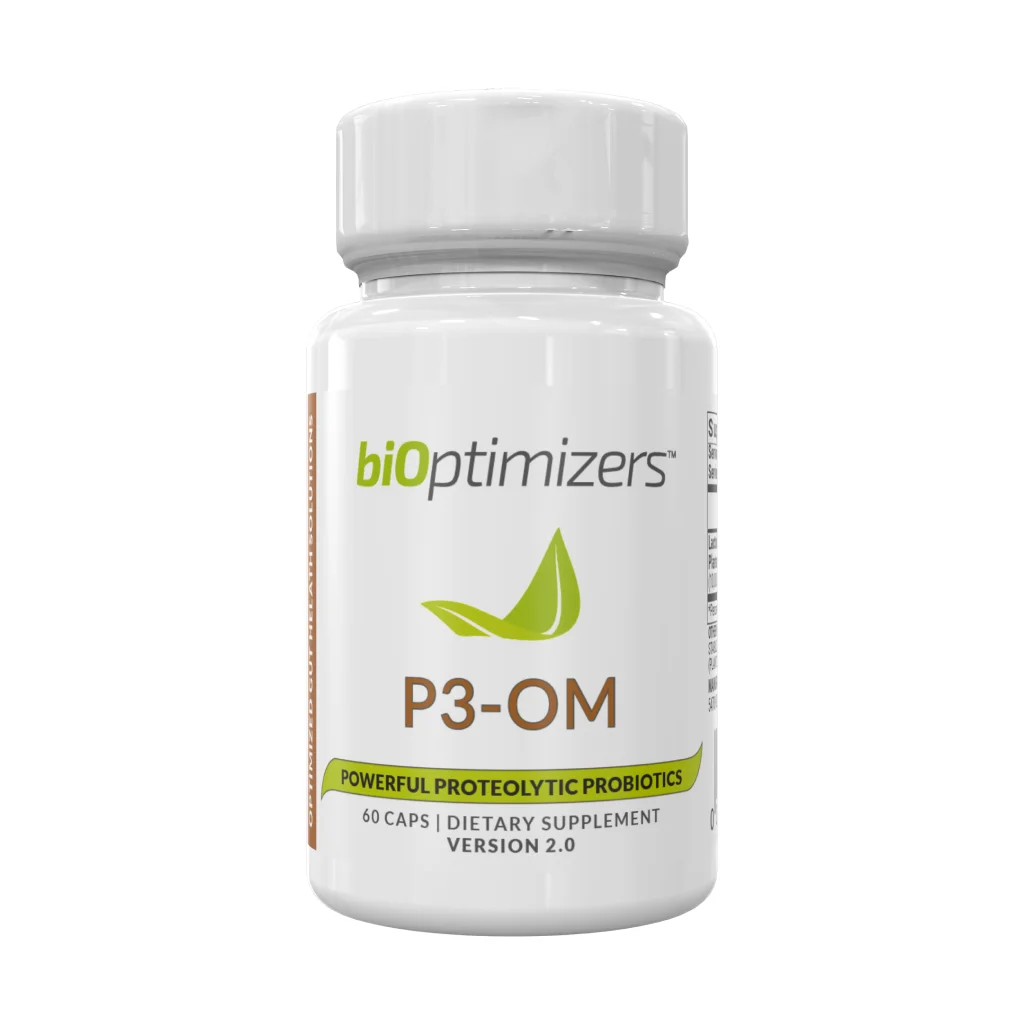 biOptimizers

P3-OM Probiotics Review
It is shocking to some people that there are bacterial species our bodies actually need. In fact, the lack of said bacteria can cause disruptions in our normal systems. That's right! One such bacteria is Lactobacillus Plantarum which has antioxidant powers and helps maintain our gut health. In some people, this microorganism can be abnormally inactive or in reduced amounts. For such people, the best solution is taking a supplement.
Increases mental clarity and focus
Improves sleep and recovery
Boosts your energy levels
Supplements that help improve the effects of these bacteria are called probiotic supplements. One of the most well-loved and recommended supplements as P3-OM. If you are interested to know more about this product, you will find a complete P3-OM Probiotic review down below.

What Is

P3-OM Probiotic

?
Let's begin with the Probiotic P3-OM review, shall we? A proud presentation of BiOptimizers, this probiotic supplement contains Lactobacillus Plantarum OM. Launching fitness programs and health supplements since 2004, BiOptimizers has a good name in the health industry.
The president of the company Wade Lightheart, and the chief executive officer, Matt Gallant, were athletic trainers before they partnered to build a business. Since they joined hands, their passions have collided to grow BiOptimizers as a reputable company among fitness enthusiasts. Apart from P3-OM, several other amazing products are on their catalog, including enzyme supplements, magnesium supplements, and much more.
P3-OM Probiotics Ingredients
The main ingredient of the supplement is Lactobacillus Plantarum. These supplements are probiotics, meaning they consist of live organisms that serve health benefits to our bodies. Lactobacillus Plantarum is a lactic acid bacteria with a very versatile and flexible species.
It is usually found in our digestive tracts and helps maintain our intestines' permeability, and is generally referred to as the "friendly bacteria." It has the power to successfully suppress any bacteria that enable gas production.
Hence, if taken in supplemental form, they are potentially beneficial for people who suffer from irritable bowel syndrome, and others get diseases. In fact, they are a popular recommendation in the medical field.
Furthermore, lactobacillus Plantarum helps stabilize our digestive enzymes and balance the microbial growth happening in our bodies. It helps with food breakdown, nutrient absorption and fights against any dangerous living substances in our bodies.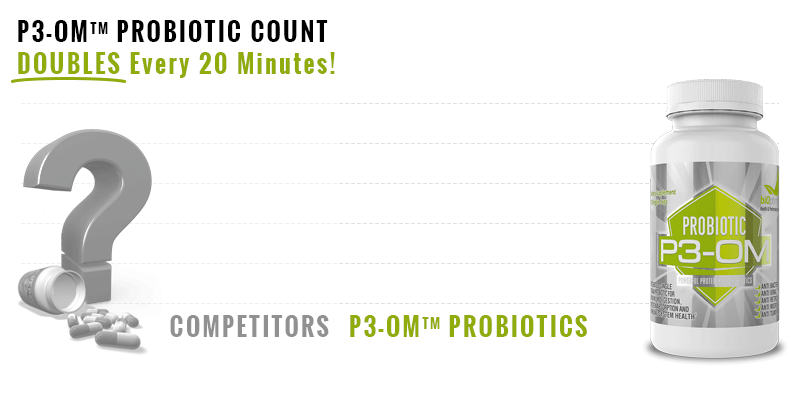 This way, this bacterial species can help us escape diseases like diarrhea. Besides helping with the gut and digestive system, the Plantarum is also well-known for its other advantages and functions. For example, it enhances your immune support and makes your body stronger. A stronger immune system means that you can fight off diseases and harmful substances in a much easier way without having them impact your overall health.
A more robust immune system and an overall healthy body mean that you will feel more energetic. You will feel an instant boost in your energy level if you have a healthy gut. More energy means better productivity which ultimately leads to a much happier individual with stabilized moods.
This way, Lactobacillus Plantarum has been linked with your mental health, gut health, and immune system. What'sInterestingly, some medical experts say that it also helps sharpen your memory and promotes weight loss.
Research done in April 2020 concluded that Lactobacillus Plantarum could ameliorate obesity. Exactly how this can happen is still under study, but there are some theories. One strong approach is that certain probiotics, especially Lactobacillus, can inhibit dietary fat absorption, meaning that most fat is excreted from the body through feces.
This way, they make you grab lesser calories from everything that you eat. These probiotics also fight weight gain by releasing hormones that regulate appetite and increasing the levels of proteins that regulate fat. Plus, by improving your gut health, Lactobacillus Plantarum reduces the systemic inflammation in your body and protects you against obesity as well as other diseases.

How Does

P3-OM Probiotic

Work? 
Moving on with the P3-OM Probiotic review, let's take a look at how these supplements work. When specific individuals feel like their gut health is declining over time and a lack or inactivity of gut bacteria might be the problem, they are usually recommended to take probiotics.
These probiotics introduce microorganisms inside your body that should have naturally been there. Since your digestive tracks already have exposure to Lactobacillus Plantarum, it does not usually react badly to these supplements. Hence, they are typically safe to intake. Lactobacillus Plantarum then starts stimulating your digestive tract to get it back into proper functioning.
With your gut bacteria working normally again, your body can fight diseases, break down food properly, absorb the necessary nutrients, create energy adequately, and produce vitamins as it should. You will feel all these functions taking place as you notice an overall improvement in all part aspects of your health.
For example, you will start feeling more energetic and productive as your body starts creating the energy it should. An improvement in vitamin production will lead to better bone and skin health. You will feel your muscular abilities improving, higher fatigue resistance, and enhanced strength and endurance in the body.
If you are on your way to become physically fit or enhance your athletic performance, these supplements will do the job for you.
Apart from these benefits, these probiotic supplements also help prevent and treat specific health problems, like irritable bowel syndrome, as mentioned earlier, and seasonal allergies. Doctors also recommend these supplements to manage and treat eczema, anxiety, diabetes, high cholesterol, high blood pressure, ulcerative colitis, and inflammatory bowel disease.
biOptimizer P3-OM Probiotics

Benefits

Probiotic P3-OM is an incredible protein-processing probiotic. It contains Lactobacillus Plantarum OM, rice-wheat, and vegetable cases. It is an incredible enhancement in case you're hoping to improve your gut wellbeing. What's one of a kind about it is that it doesn't need refrigeration, contains a solitary strain of microorganisms, and the microscopic organisms can twofold at regular intervals.
Higher energy level

Better digestion

Stronger immune system

Reduced bloating and gas

Increased mental clarity and focus

Improved sleep and recovery

Better gut health
How To Use

P3-OM Probiotic

? 
To ensure that these probiotics reach your large intestine while staying intact, you mustn't expose them to your digestive enzymes and stomach acid. Taking your supplements before meals on an empty stomach is the best way to go.
If you think taking them without any food in your belly can make you uncomfortable, you can also take the probiotics with your meals; they still work fine!
P3-OM Probiotic Directions: Take P3-OM 1-2 capsules with each meal. (May take 1-2 capsules at night before sleep) Store in a cool/dry location.
What Are Its P3-OM Probiotic Side Effects
Before ending the Probiotic P3-OM review, let's take a look at the potential side effects you might experience from probiotics. Remember, probiotics are generally safe, and it is rare to witness side effects in a consumer.
However, one can experience adverse symptoms based on whether or not they needed the supplements. For example, people who are already suffering from severe illnesses and have a compromised, weakened immune system usually experience severe probiotics complications. Introducing microbes into their bodies can sometimes lead to an unexpected outcome, even if they are in regulated amounts for ordinary people.
These include excessive thirst, constipation, severe bloating, and gas. Redness, swelling, trouble breathing, runny nose, watery eyes, and itching are some other more complicated side effects.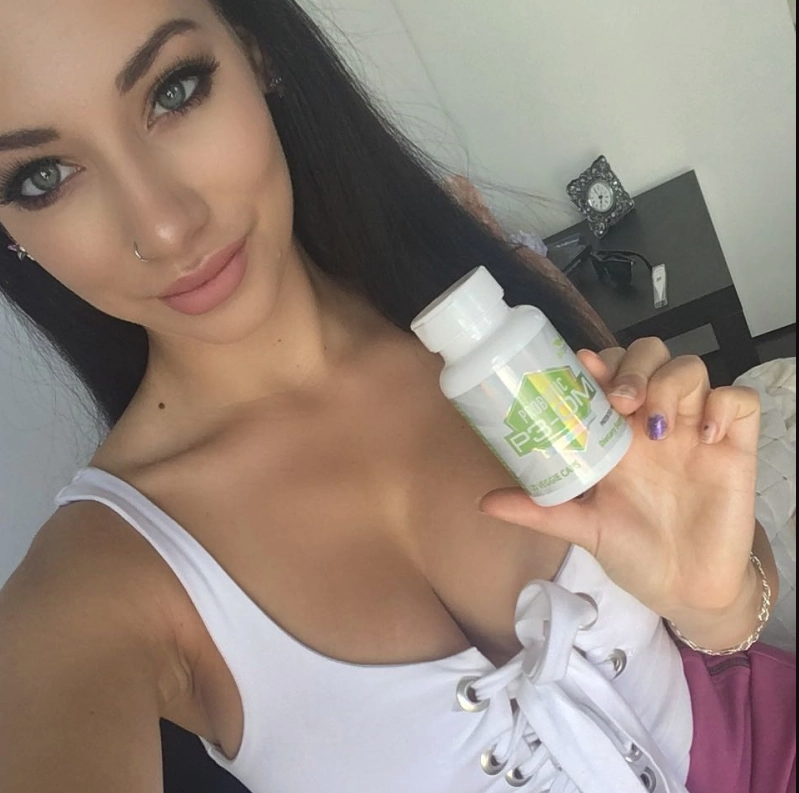 P3-OM Probiotic Customer Review: What People Say About This Product
As far as the reviews are concerned, consumers are generally very happy and satisfied with these supplements. The overall rating is 4.8 out of 5, and there have been no reports or complaints of severe side effects.
Consumers who have tried other probiotics in the past can notice a clear difference between the other supplements and P3-OM. Reduced bloating, minimized gas and improved digestion are some of the most common feedbacks by customers.
P3-OM Probiotics Review
Your biOptimizers P3-OM Probiotics are knocking my socks off!!! My body is changing quickly and those have been the greatest ongoing expansion to my most recent endeavors. I've gotten through different levels in an assortment of activities… fat is softening off me like spread in the warm sun… my energy levels are reasonably high.
My rest is improving considerably more and I sliced a whole vacation day my avg recuperation time between substantial exercises! Your items are a genuine distinct advantage and wellbeing transformer. I test a great deal of stuff, so I don't say that daintily. You all are making some genuine Positive Measurable Impact! Huge embraces, much love, and gigantic appreciation to you and your group! Charls
P3-OM Probiotics Review
I love utilizing P3-OM Probiotics by BiOptimizers ordinary. It helps continue to swell away. It helps keep my belly level. Also, it's assisted me with my digextive issues. My better half and I love it.
I'm exceptionally aware of the significance of stomach-related wellbeing. This is the reason I give P3-OM Probiotics to my entire family including my 4 children. My protein processing has never been exceptional and my children never become ill. I give P3-OM Probiotics my most elevated suggestions. Elliot
I could never underwrite an item I didn't utilize myself. That appears to be exploitative to me. All things considered, I take the P3-OM Probiotics consistently and wholeheartedly suggest the two items.
I've not seen a more intense proteolytic probiotic. This is unquestionably one of the missing pieces in the riddle of generally speaking wellbeing and health. Vince
I take these regularly since I comprehend the significance of having incredible gut wellbeing. BiOptimizers P3-OM Probiotics are a piece of my everyday routine that I use to assault gut aggravation.
I take P3-OM Probiotics regularly. 8 with suppers, and 4 with snacks. My processing has never been exceptional and I've never had this much energy for the duration of the day. Dave
Totally marvelous expansion to anybody! Getting the entirety of your supplements from the food you cautiously plan is indispensable. This item has numerous credits for clean sound admittance to a shining digestive and invulnerable framework!
The best probiotic ever. Simply watch their video of this and bioptimizers masszymes separating a steak. 100% get this. Carl
P3-OM Probiotic Discount, Pricing, Coupon, And Where To Buy
Ending this P3-OM Probiotic review, you can get this product at BiOptimizers' official website and on Amazon. A bottle consisting of 120 capsules costs $75 for a one-time purchase. However, if you plan to be a regular customer, you can subscribe to the product and save about 14% on every purchase.
With the subscription,6 Bottles BiOptimizers P3-OM Probiotic shipped to you every month. 1 Year Money-Back Guarantee. If unsatisfied for any reason, send back your unused bottles and get 100% of your money back. You will save 38% plus Free Shipping.
P3-OM Probiotic Pros And Cons
P3-OM Probiotic Pros:
Improves focus, concentration abilities, and mental clarity
Helps with recovery and sleep cycles
It multiplies inside your digestive tract, so you don't have to take many CFUs (colony forming units) as most probiotics on the market
Combining it with calorie deficiency can promote weight loss
You don't need to refrigerate it to maintain its potency.
It is 100% plant-based, lactose-free, and vegetarian.
Combining it with training and proper nutrition helps you get lean muscles.
P3-OM Probiotic Cons:
People who have pancreatitis cannot take these supplements due to the risk of side effects.
Individuals who have a compromised immune system are also not eligible to consume this product.
P3-OM Probiotic Summary: Should I Buy It?
Hopefully, this P3-OM Probiotic review helped you decide whether or not you want to invest in these probiotics. Such supplements have their pros and cons, but it is always best to make a thoughtful decision before putting anything in your body.
That's why the ideal way to go about the situation is to refer to your doctor or medical consultant. Tell them about how you feel, and ask them whether you should opt for probiotics and supplements. Once they give you the green light, go ahead and order your bottle right away!
biOptimizers
Probiotic P3-OM

Coupon Code

Save with P3-OM Probiotic Coupons & Promo codes coupons and promo codes for April 2021. Today's top P3-OM Probiotic Coupons & Promo codes discount:
Put It To The "Feel-The-Difference" Challenge.
One thing every one of our customers love is the fact that they FEEL the probiotics working.
Within days people are noticing a major difference in how they feel.
If you purchase 1 bottle and you are not completely satisfied, within 365 days you may request a full refund (minus shipping & handling cost).
If you choose to save money and buy a bundle of multiple bottles, you are still covered by a 365 day guarantee. If after your first bottle you are not satisfied, you can return your remaining unopened bottles within 365 days of purchase and we will issue you a full refund for your order (minus the cost of shipping & handling)*. 
*Please note: If you open a second bottle, you no longer qualify for the guarantee above. Speak with our customer service team, and you may be able to receive a prorated refund depending upon the number of unopened bottles you will be returning.
Just contact us, let us know where we could be better, and we will issue you a refund (excluding any shipping and handling charges).
P3-OM Probiotic Scientific Reference
1. Salminen S, Bouley C, Boutron-Ruault MC, et al. Functional foodscience and gastrointestinal physiology and function. Br J Nutr 1998; 80(suppl):S147–71.
2. Salminen S, Isolauri E, Salminen E. Clinical uses of probiotics for stabilizing the gut mucosal barrier: successful strains and future challenges. Antonie Van Leeuwenhoek 1996;70:347–58. CrossRefMedline.
3. Lee YK, Salminen S. The coming of age of probiotics. Trends Food Sci Technol 1995;6:241–5. CrossRef.
4. Huis In't Veld JHJ, Shortt C. Selection criteria for probiotic microorganisms. London: The Royal Society of Medicine Press Ltd, International Congress and Symposium Series, 1996;219:27–36.
5. Salminen S, Laine M, von Wright A, Vuopio-Varkila J, Korhonen T, Mattila-Sandholm T. Development of selection criteria for probiotic strains to assess their potential in functional foods: a Nordic and European approach. Biosci Microflora 1996;15:61–7.
6. Ruseler van Ebmden JHG, van Lieshout L, Gosselink M, Marteau P. Inability of Lactobacillus casei strain GG, Lactobacillus acidophilus, and Bifidobacterium bifidum to degrade intestinal mucosa glycoproteins; clearing the way for mucosa-protective therapy. Scand J Gastroenterol1995;30:675–80. Medline.
7. Alander M, Korpela R, Saxelin M, Vilpponen-Salmila T, Mattila-Sandholm T, von Wright A. Recovery of Lactobacillus rhamnosus GG from human colonic biopsies. Lett Appl Microbiol 1997;24:361–4. CrossRefMedline.
8. Ouwehand AC. Antimicrobial components from lactic acid bacteria. In: Salminen S, von Wright A, eds. Lactic acid bacteria, microbiology and functional aspects. New York: Marcel Dekker Inc, 1998:139–60.
9. Lee YK, Wong S-F. Stability of lactic acid bacteria in fermented milk. In: Salminen S, von Wright A, eds. Lactic acid bacteria, microbiology and functional aspects. New York: Marcel Dekker Inc, 1998:103–14.
10. Malin M, Verronen P, Korhonen H, et al. Dietary therapy with Lactobacillus GG, bovine colostrum or bovine immune colostrum in patients with juvenile chronic arthritis: evaluation of effect on gut defence mechanisms. Inflammopharmacology 1997;5:219–36.
11. Saavedra JM, Bauman N, Oung I, Perman J, Yolken R. Feeding of Bifidobacterium bifidum and Streptococcus thermophilus to infants in hospital for prevention of diarrhea and shedding of rotavirus. Lancet 1994; 344:1046–9. CrossRefMedline.
12. Isolauri E, Juntunen M, Rautanen T, Sillanaukee P, Koivula T. A human Lactobacillus strain (Lactobacillus GG) promotes recovery from acute diarrhea in children. Pediatrics 1991;88:90–7. Abstract/FREE Full Text.
13. Lehto E, Salminen S. Adhesion of two Lactobacillus strains, one Lactococcus strain and one Propionibacterium strain to cultured human intestinal Caco-2 cell line. Biosci Microflora 1997;16:13–7.
14. Lehto E, Salminen S. Adhesion of twelve different Lactobacillus strains to Caco-2 cell cultures. Nutr Today 1996;31:49–50.
15. Tuomola E, Salminen S. Adhesion of some probiotic and dairy Lactobacillus strains to Caco-2 cell cultures. Int J Food Microbiol 1998; 41:45–51. CrossRefMedline.
16. Elo S, Saxelin M, Salminen S. Attachment of Lactobacillus casei strain GG to human colon carcinoma cell line Caco-2: comparison with other strains of dairy starter bacteria. Lett Appl Microbiol 1991;13:154–6. CrossRef.
17. Saxelin M, Elo S, Salminen S, Vapaatalo H. Dose response in faecal colonization with Lactobacillus GG. Microbiol Ecol Health Dis 1991; 4:209–14.
18. Fuller R. Probiotics in man and animals. J Appl Bacteriol 1989;66: 365–78. Medline.
19. Nighswonger BD, Brashears MM, Gilliland SE. Viability of Lactobacillus acidophilus and Lactobacillus casei in fermented milk products during refrigerated storage. J Dairy Sci 1996;79:212–9. Medline.
20. Ouwehand AC, Salminen SJ. The health effects of viable and non-viable cultured milks. Int Dairy J 1998;8:749–58. CrossRef.
21. Clements ML, Levine MM, Ristaiano PA, Daya VE, Hughes TP. Exogenous lactobacilli fed to man—their fate and ability to prevent diarrheal disease. Prog Food Nutr Sci 1983;7:29–37. Medline.
22. Salminen S, Ouwehand A, Benno Y, Lee Y-K. Probiotics: how should they be defined? Trends Food Sci Technol 1999;10:1–4.
Related Post – BiOptimizers Products Review